Hawthorn Leisure pub chain up for sale
Mon, 05 Mar 2018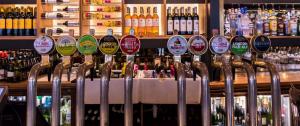 Hawthorn Leisure, a firm led by co-founder CEO Gerry Carroll, is being put up for sale by majority owners Avenue Capital.

Noah Bulkin launched the pub group in 2014 with the help of funding from private equity backer Avenue Capital. The investor now wants to sell the chain for between GBP115m and GBP130m, according to reports.

There is already news that rivals in the pub business, including Admiral Taverns and Heineken's pub arm, are thought to be interested in the chain.

Hawthorn Leisure's model is to use data to help get the pricing and drinks offering just right in order to stave off competition from market challenges such as cheaper supermarket alcohol and the smoking ban. The model has proved successful so far and the chain reported revenue of GBP41.5m in 2016, with operating profit increasing to GBP529,000, up from a loss of £677,000 in 2015.

The tenanted pub group started out with a GBP75.7m investment from New York private equity investors Avenue Capital, which funded the purchase of 275 pubs from Greene King. It has since purchased a further 11 pubs from Wetherspoons and 88 pubs from R&L, while selling off several sites it referred to as "non-core."
Subscribe today to read and search all our news, premium articles, business sale listings and buy/sell resources.
Do you want to gain access to the latest businesses for sale as well as all UK administrations, liquidations and all winding-up petitions?
Business Sale Report is your complete solution to finding great aquisition opportunities.
10 Biggest Buyer Mistakes
Fill in your details below to get our FREE guide