Business Sale Report acquisition update
Sun, 23 Mar 2014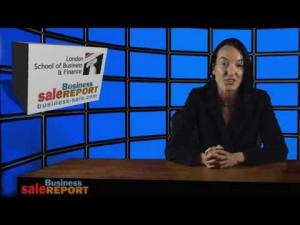 Hello and welcome to the Business Sale Report
Twenty two care homes have been put on the market after the owner, Mimosa Health Care Group, called in the administrators.
Fortunately, none of the care homes are being closed and for now, all one thousand staff are keeping their jobs. The business has been affected by the difficult economic climate and lower occupancy levels. A spokesman for the company says that its first priority is to ensure continuity of care for all residents in Mimosa homes. If you are thinking of making a care home acquisition, read our latest update on the industry at
www.business-sale.com
.
And there's been good news for small businesses as a drop in fuel prices has helped bring down the UK inflation rate to its lowest point in four years - just 2.7 per cent over the last twelve months. Business owners - and especially those who rely on logistics - are keenly aware of the importance of keeping the cost of doing business down.
And finally, we've teamed up with the London School of Business and Finance to publish a report on how the UK merger and acquisition landscape has changed since the Kraft Cadbury deal. You can read about these rule changes and more in the latest issue of the Business Sale Report.
See you next time.
Subscribe today to read and search all our news, premium articles, business sale listings and buy/sell resources.
Do you want to gain access to the latest businesses for sale as well as all UK administrations, liquidations and all winding-up petitions?
Business Sale Report is your complete solution to finding great aquisition opportunities.
10 Biggest Buyer Mistakes
Fill in your details below to get our FREE guide