Britain's oldest airline flies into administration
Mon, 02 Oct 2017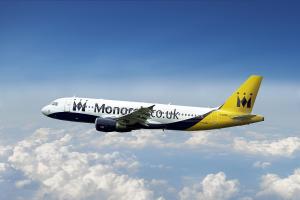 Monarch Airlines went into administration in the early hours of the morning, causing the biggest peacetime repatriation of more than 110,000 customers who have been left stranded by the collapse, and who are due to be flown back on specially chartered planes.
The Civil Aviation Authority (CAA) chief executive, Andrew Haines, said: "We know that Monarch's decision to stop trading will be very distressing for all of its customers and employees. This is the biggest UK airline ever to cease trading, so the government has asked the CAA to support Monarch customers currently abroad to get back to the UK at the end of their holiday at no extra cost to them.
"We are putting together, at very short notice and for a period of two weeks, what is effectively one of the UK's largest airlines to manage this task. The scale and challenge of this operation means that some disruption is inevitable. We ask customers to bear with us as we work around the clock to bring everyone home."
Monarch has been Britain's longest-serving airline brand and employs nearly 3,000 staff.
The union, Unite, has blamed the collapse on potential investors and buyers being deterred by the continuing uncertainty around Brexit and whether or not British airlines would be able to continue flights around Europe. Unite accused the government of refusing to give a 'bridging loan' to the airline to help prop it up. The ongoing threat of terrorism has also affected the airline's profits, as two of Monarch's biggest markets (Egypt and Tunisia) have been closed after terror attacks.
Search
businesses for sale
Subscribe to the
Business Sale Report
Subscribe today to read and search all our news, premium articles, business sale listings and buy/sell resources.
Do you want to gain access to the latest businesses for sale as well as all UK administrations, liquidations and all winding-up petitions?
Business Sale Report is your complete solution to finding great aquisition opportunities.
10 Biggest Buyer Mistakes
Fill in your details below to get our FREE guide